Find Out What's Poppin' at Tastebuds Popcorn
Tastebuds Popcorn has popped the world's best popcorn since 2011. The idea was created by Jay Pithwa by using decades-old recipes for caramel that he brought over and perfected from his hometown in England.
More than 200 flavors are handcrafted in a true artisan style using authentic ingredients such as imported Madagascar vanilla, European sea salts and high-end chocolates like Godiva, Ghiradelli, and Lindor. Tastebuds Popcorn even uses authentic candy bars in many of the gourmet chocolate flavors and pours in the actual soda to the soda flavored popcorn.
Pick a location you love
Tastebuds Popcorn retail locations work well in high-traffic areas such as tourist and beach towns, malls, shopping centers, and stand-alone buildings, but Tastebuds has also proven to be a destination experience for many. Popcorn lovers drive for miles and miles for our famous poppings.
Tastebuds Popcorn is great for:
Fundraising
Corporate Gifts
Weddings
Employee Appreciation
Sales Rep Office Gifts
Wholesale Accounts
And we ship too!
Popcorn Sales Explode
If you feel like there is popcorn on every end-of-aisle display in the supermarket, you probably aren't exaggerating (too much). Market research firm Mintel reports that overall popcorn sales have jumped 32% in the last five years. Within the popcorn category, the Ready-to-Eat (RTE) segment has grown a whopping 118%. In dollar terms that translates into a $1.1B market for RTE popcorn (and $2.5B for all popcorn sales).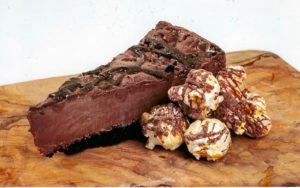 American consumers have long embraced popcorn as a healthy snack alternative (assuming they eat it without adding melted butter and loads of salt), but the demand for flavored popcorn has grown as the consumer now looks for new taste experiences – everything from indulging in chocolate/caramel covered popcorn to seasonal flavors like pumpkin in the fall. Popcorn is riding a wave of consumer demand for convenience, a perception of healthy food (or, conversely, an indulgent snack), and the snack-as-meal trend.
Quick Facts About the Tastebuds Popcorn Business Opportunity
Family owned and operated business

Multiple revenue streams
Low startup costs
Low marketing fees
Shelf stable products
Small store footprint
Open for business in weeks, not months
Tastebuds has been featured in Food Network Magazine, ABC, NBC, CBS and Fox, and has received numerous accolades and awards including The Knot Magazine's 'Best of Weddings' and 'Retailer of the Year'. The word is out, so it's time to get popping!
So, do you want to learn more?
It's easy to request more information on the Tastebuds Popcorn Business Opportunity or any other opportunity you've discovered on Franchise Beast. Just complete the short form below to receive a free, no obligation franchise kit.
We'll only send you information from opportunities that you've selected. We hate spam just as much as you do.