Welcome home to House of Bread: Your bakery franchise opportunity
Since 1996, House of Bread Bakery Cafe has been providing high-quality, healthy, delicious offerings to our customers. We have enjoyed a phenomenal response to our products and have greatly exceeded our initial sales projections. House of Bread Bakery Cafe has found its niche primarily through heavy sampling, open production sites, consistent high product quality and excellent customer service; we have been utilizing these proven strategies for success.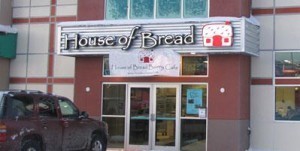 House of Bread Bakery Cafe Franchising offers an opportunity to experience the pride and independence of owning your own business along with the benefits of a proven system and a strong support network. Changing times are encouraging people to own their own businesses and control their own futures as they seek to be free from the pressures of the corporate world. House of Bread Bakery Cafe Franchising is a natural fit for those who aren't afraid of hard work and are ready for a rewarding and successful business environment.
House of Bread Bakery Cafe Franchising has planned for responsible, managed growth by building a network of intelligent, hard-working and honest Franchisees who enjoy making great bread and offering quality services.
Capitalization
Total initial startup costs vary depending upon whether new or used equipment is purchased. Typical start up costs $250,000. Also included in this fee is the franchise fee, travel, training, location selection, site build-out, point-of-sale information system, equipment purchasing, initial supplies and ingredients ordering, organizational expenses, signage, pre-opening promotions and working capital.
We do not provide direct financing. However, we do provide assistance with financial projections, business plan designs, and lender negotiations. Generally, you will need $125,000 in cash, in order to be eligible for a Small Business Administration backed loan. Keep in mind that $70,000 of the $125,000 can be obtained through a home equity loan.
Location Selection of your Bakery Franchise

The demographic area for a House of Bread Bakery Cafe should be a town with a population of at least 15,000 people within the city limits or an area with over 30,000 people within a five mile radius.
Almost any metro area can support a House of Bread bakery franchise.
Income Potential
How much money you make is a result of your own efforts, ambition, and market potential. However, we provide historical financial information in our Federal Disclosure Document that is provided after we receive a franchise application.. Generally, how fast you achieve your financial goals depends upon many variables but mostly it depends on you.
So, do you want to learn more?
It's easy to request more information on House of Bread or any Franchise Opportunity you've discovered. Just complete the short form below to receive a free, no obligation franchise kit.
We'll only send you information from opportunities that you've selected. We hate spam just as much as you do.