Mag-nificent makes memories
Mag-nificent is an event entertainment company that provides a variety of services for creating fun instant photo experiences for all types of events. All of our services are tied together with an innovative app-based engagement platform that allows all of the event's attendees to participate in the process by creating their own photo memories from the event and contributing those photos to the event's permanent photo and video album.
Mag-nificient franchisees provide the right instant photo memory experience for every event and back it up with state of the art technology and world-class service and support. Our unique solutions allow our franchisees to offer families, corporations, schools, non-profits fun, affordable and instant photo memories for every occasion.
About Mag-nificent
Mag-nificent started out in the summer of 2011. The business was created to mimic a business model that had been made popular in Europe. Although refrigerators across Europe were covered in photo magnets from events, they were scarcely found in the US. They started with smaller events like birthdays and Bar-Mitzvahs. Before long, Mag-nificent was working with some of the biggest companies in the world.
The concept was simple. First, a custom frame would be designed for each event. As opposed to stationary photo booths, Mag- nificent personnel would circulate throughout the event take photographs of people having fun. Finally, those photos would be instantly printed on magnets and placed on a customized magnetic board for pickup. All images would be streamed to Mag-nificent's website, which people could access using the password on the back of each magnet.
After a few months of fine-tuning the product and process, their hunch proved right. Instant photo magnets quickly became popular at all kinds of events throughout Atlanta. It was not long before calls from other parts of the country started coming in from people and planners that wanted instant photo magnets and their events.
Wanting to appeal to a wider range of event types, Andrew introduced several unique products that could be a fit for any occasion. The Mag-nificent Mobile App (aka the MagApp) was born in order to allow attendees to take photos from their phone, share to social media, and get a printout within minutes.
In 2017, Andrew's father Mike, a successful Atlanta businessman, came on board in an effort to take Mag-nificent National.
Serving A Huge Industry That Continues To Grow
The events industry is growing rapidly and research indicates that will continue into the foreseeable future. Consider the following data from industry research:
The US Bureau of Labor Statistics predicts that the event industry will grow by 44% from 2010 to 2020, exceeding most growth predictions for other industries. US Bureau of Labor
65% of brands say that their event and experiential programs are directly related to sales. (EMI & Mosaic) o 67% of B2B marketers think that event marketing is their most effective strategy. (WebDAM)
UNIQUE PHOTO EXPERIENCES TO ENHANCE ANY EVENT.
Combine a huge industry with these facts and the result is a great business opportunity:
That photography and videography are part of virtually every type of event imaginable.
These services are almost always contracted out to third parties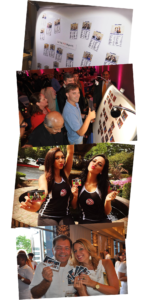 Event organizers are constantly looking for ways to make their events more fun and memorable. Our strategy and goal is to become the trusted source for providing the right photo memory service for the needs of each event. To that end, we offer a variety of different services and we are constantly developing new ones to keep our offerings fresh.
The "buyers" for our services range from brides planning their wedding, to parents planning a mitzvah or party, to event planners to corporate marketing departments planning events to promote their brand. We are committed to providing our franchisee partners a wide range of services and support to effectively market to each of these market segments.
Highlights of the Mag-nificent Business Model
In addition to serving a huge industry, there are several other advantages to owning a Mag-nificent Franchise:
Proven business model with very attractive margins/income opportunity.
Home based business requiring very little fixed overhead expense.
Both consumer and corporate client base.
Wide array of photo memory solutions tied together with proprietary technology that will differentiate our services from those offered by other providers.
Mobile business that does not require full-time employees. Variable cost model.
Franchisor partner absolutely committed to your success. In-depth support services provided every step of the way.
So, do you want to learn more?
It's easy to request more information on the Mag-nificent Franchise Opportunity or any other opportunity you've discovered on Franchise Beast. Just complete the short form below to receive a free, no-obligation information kit.
We'll only send you information from opportunities that you've selected. We hate spam just as much as you do.