The Crepe Company Franchise: Say Bonjour! to the best mobile crêperie
Bonjour! and thank you for your interest in the The Crepe Company franchise opportunity. We are so excited to share our success with you. Together there will be many crepe days ahead!
Our Mission:
The Crepe Company is devoted to creating the ultimate Crepe experience. Our mission is to provide unique and delicious options that enhance life's celebrations.
Customers love our Crepes!
Each crepe is made-to-order from our proprietary Crepe Company franchise batter, filled with sweet or savory ingredients, and perfectly folded by one of our Crepe Artists. It's entertaining to watch, and the aroma draws the crowds.
You'll love them too.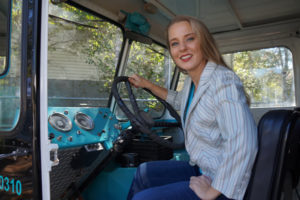 Low start-up costs, quick and easy training
High profit margins
Simple to manage with low cost of labor
Quick and easy food prep with minimal waste
Beautifully branded with a strong reputation
The Crepe Company franchise delivers a turnkey, fresh food concept with real potential for growth. It's the perfect opportunity for anyone who wants to be their own boss, make real money, leave a legacy – and have fun along the way.
We hope to hear from you soon.
Have a Crepe Day!
Warm regards,
Lisa M. Fareed
The Crepe Lady
A Little History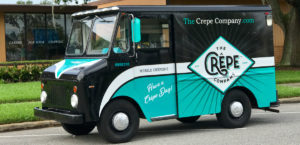 The Crepe Company, Orlando's original crepe-maker, has been serving Central Florida since 2009. Managing owner, Lisa Fareed, is a business finance graduate from the University of Central Florida.
While on holiday in France, she became fascinate with the excitement and aromas from the Parisian street vendors' carts. She stepped away from her career in finance and real estate, and opted to buy a crepe cart of her own to bring the excitement and aromas of Paris to Orlando.
Today, The Crepe Company operates crepe carts, and a food truck that provide catering and wholesale to the hospitality industry in the Central Florida area.
You will also find The Crepe Company around town serving at local farmers markets, community events and festivals.
The Crepe Company Difference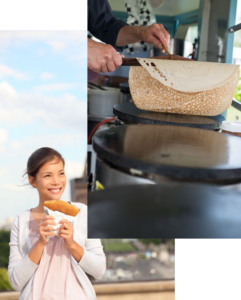 The Crepe Company is devoted to creating the ultimate crepe experience for life's celebrations. Our delicious specialty crepes are made out of a hand-held style recipe inspired by the street foods of Paris. We were inspired by street side vendors throughout Europe and traveled to Paris to discover some of these recipes firsthand. Our signature crepes marry the European style with an American twist, made fresh to order with quality ingredients. We hope our crepes can transport you back to the city of light right through your taste buds.
Orlando's original crepe-maker and food truck, The Crepe Company, has been serving Central Florida since 2009. Today, The Crepe Company offers many food service catering options to meet your location and needs. We can serve our crepes in any fashion to accommodate different venues with our indoor and outdoor set up options. Our crepe carts, and food truck can be found around town serving many of the local community events in the greater Orlando area. The Crepe Company has plans for expansion, keep on the lookout for our crepes coming to a town near you.
So, do you want to learn more?
It's easy to request more information on The Crepe Company or any Franchise Opportunity you've discovered. Just complete the short form below to receive a free, no obligation franchise kit.
We'll only send you information from opportunities that you've selected. We hate spam just as much as you do.